The brevity of Sunday's Gospel packs real punch.
None more so than, "Love one another as I have loved you."
Ernest Gordon (1916 – 2002) spent three years in a Japanese prisoner of war (POW) camp during World War II.
In his book, Miracle on the River Kwai, Gordon describes a very moving incident in which British prisoners of war tend the wounds of injured Japanese soldiers and feed them.
The Japanese are encrusted with mud, blood, and excrement.
Their wounds are sorely inflamed, and they are left uncared for by their own people.
The British prisoners see them, take pity on them, bathe their wounds, and give them a little food to eat.
They care for their enemies who have starved and beaten them, killed their comrades. Love can work miracles and break down barriers because it is truly the power of God.
St John writes, "Beloved, let us love one another because love is from God." It works in our schools and workplaces and homes and families.
As a baby learns to smile in response to the smiles of its parents and learns language by being spoken to, so the very possibility of love, let alone its vocabulary and gestures, can only be learned in response to the love that finds us first, finds us before we even know what or who it is that has loved us.
And so it is with us spiritually.
We love as we are loved, and Jesus makes the new commandment possible because of the radical way in which he has loved us; absolutely, unconditionally, without reserve.
Winnie the Pooh, is a  fictional teddy bear created by English author A. A. Milne.
Piglet is Winnie the Pooh's closest friend.
At one point Piglet enquires of Pooh, "How do you spell love?" to which Pooh responds, "you don't spell it, you feel it." And might I add, 'you do it' which is what we are celebrating these weeks of Easter – love as a verb!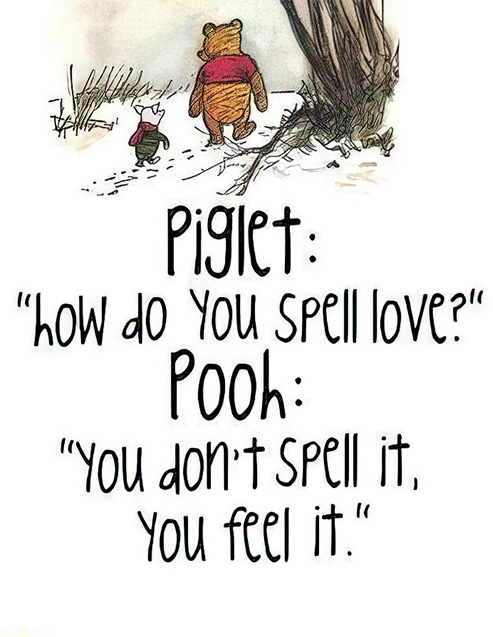 The 13th-century Persian poet Rumi reminds us, "love cannot be described it must be tasted".
John Clayton Mayer is an American singer, songwriter, and has a song with a simple and yet profound title, "Love is a verb."
Love is a verb
It ain't a thing
It's not something you own
It's not something you scream
When you show me love
I don't need your words
Yeah love ain't a thing
Love is a verb
Love ain't a thing
Love is a verb
Love ain't a crutch
It ain't an excuse
No you can't get through love
On just a pile of I-O-Us
Love ain't a drug
Despite what you've heard
Yeah love ain't a thing
Love is a verb
Love ain't a thing
Love is a verb
So you gotta show, show, show me
Show, show, show me
Show, show, show me
That love is a verb
You gotta show, show, show me
Show, show, show me
Show, show, show me
That love is a verb
Love ain't a thing
Love is a verb