A mission statement is used by a company or an organization to explain, in simple and concise terms, its purpose(s) for being.
It is usually one sentence or a short paragraph, explaining a company's or organizations culture, values, and ethics.
Mission statements serve several purposes, including motivating employees and reassuring investors of the company's future.
Let's say for example that I founded a company that made steak knives; the mission statement would be something like : "SharpNTasty, we make knives so you can enjoy your food."
The culture, values and ethics are in fact in the very name of the company; its purpose is stated concisely, namely making knives.
Mission statements ran rampant among religious organizations, Churches and Religious Congregations; they were posted on the doors of the Church, both outside and inside, they formed the headline banner for letterhead on correspondence.
As you are reading this consider, does your Parish, Congregation have a Mission Statement?
Do you know what it says?
And therein lies the problem – most, that I am familiar with a too long, and too flowery!
It is as if we need to make it sound all holy!
The best Mission Statement for a Church I have ever seen was the one for Calvary Chapel, Ft. Lauderdale, Florida.
It is two words – "Making Disciples".
What more needs be said?
A couple of Sunday's back, (Week 3 of Ordinary Time), we heard Jesus proclaim his Mission Statement. Quoting from Isaiah Jesus read, "The Spirit of the Lord is upon me, because he has anointed me to bring good news to the poor.
"He has sent me to proclaim release to the captives and recovery of sight to the blind, to let the oppressed go free, to proclaim the year of the Lord's favour."   (Lk. 4: 18 -19).
There it is; clear, concise, short sentences.
Many companies and organizations (religious included) have also what they call a "vision statement".
How do the two differ?
A Mission Statement defines the company's or organization's business, its objectives and its approach to reach those objectives.
A Vision Statement describes the desired future position of the company, or organization.
Put very simply, a Mission Statement focuses on today, the Vision Statement focuses on tomorrow.
This Sunday's Gospel (Lk. 6: 17, 20 -26) which we know as The Beatitudes, provides us with the 'future position' of the company/organization, namely, "the poor are blessed, the hungry will be filled, those who weep will laugh, those persecuted will leap for joy."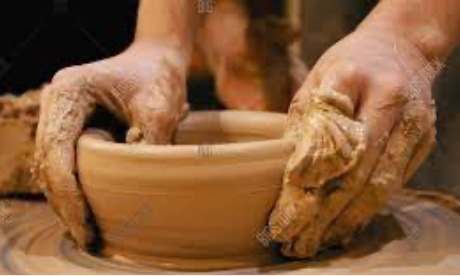 The illustration is of a disciple being under construction
It is not you that shapes God
it is God that shapes you.
If then you are the work of God
await the hand of the artist
who does all things in due season.
Offer Him your heart,
soft and tractable,
and keep the form
in which the artist has fashioned you.
Let your clay be moist,
lest you grow hard
and lose the imprint of his fingers
-Irenaeus of Lyon ( 130 –  202 ad)