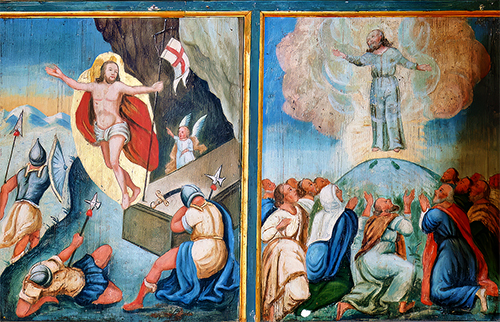 This Sunday Churches celebrate the feast of the Ascension, the return of Jesus to immediacy and intimacy with his Father. A reflection on this feast:
If you were to open the Cambridge Dictionary and look at the entry for 'step into somebody's shoes', the entry states, "to take someone's place, often by doing the job they have just left."
The Amandus Church in Freiberg Germany is a late Gothic fortified former village church. Situated on a hill above the old village centre, it is notable for a diversity of architectural styles and for its paintings and organ. One such painting is by the Czech artist, Hans Stiegler.
The north gallery of the Church is dominated by a painting titled, 'Resurrection of Jesus and Ascension'.  On first inspection the painting appears like many other 'Ascension' paintings with the faithful followers of Jesus gazing upwards as Jesus begins to leave this earth.
However, a closer look reveals that Jesus has left his sandals behind! Might I suggest that the feast we celebrate today is as much about us as it is about Jesus.
As persons committed to following in the footsteps of Jesus the Christ, we are called (maybe even challenged!) not to look up, rather to look down!.
The shoes have been left behind, in order that we may 'take someone's place, often by doing the job they have just left'.
And, surprise, surprise, one size fits all!
A note of caution, these shoes have a mind of their own and might well take you to places and persons you would rather not go, e.g. tax collectors, the poor, the needy, the forgotten, persons with a physical or psychological disability; you may be taken to the hospital, the prison, the street corner.